Sample Trips
Optional Adventures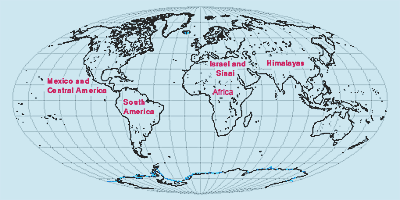 The adventures are individually designed according to your goal desires and physical abilities. Some of the optional adventures can include: hiking and backpacking, mountain climbing, scuba diving, jungle trips, visits to ruins and ancient cities, or a combination of these. On this page, you will find some sample trips to different regions of the world. If desired, you could use these trips as a guideline to custom design your own adventure. You can also come up with a completely different trip or itinerary.
Israel and Sinai
The Deserts and the Bedouin of Southern Israel and the Sinai Peninsula: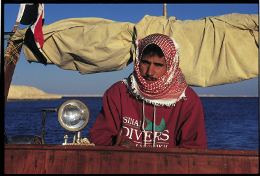 Fifteen adventurous filled days of hiking, backpacking, mountain climbing, snorkeling and scuba diving throughout the deserts of southern Israel, the high mountains of Sinai and the Red Sea. CLICK FOR DETAILS
Roaming the Holy Land, Israel: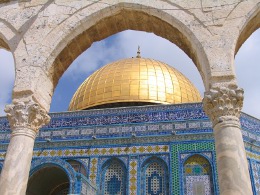 13 days of sightseeing and hiking throughout the land of milk and honey. Visiting ancient cities and holy sites, hiking and sightseeing through out the Carmel Mountain, the Galilee Mountains, the Golan Heights, the Sea of Galilee, the Jordan Valley, Jerusalem, the Dead Sea, and the Judaea and Negev Deserts. CLICK FOR DETAILS
The Himalayas - Nepal and Tibet
Trekking the Annapurna Circuit and up to the Annapurna sanctuary, Nepal: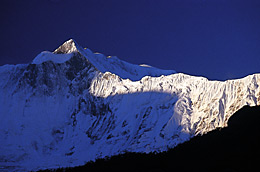 Twenty-nine adventurous days of trekking and backpacking around the Annapurna Massif. Trek through lowland villages (2600 feet) to the remote Manang region (11,500 feet), and cross the Thorung La Pass 17,873 feet - probably the highest you'll ever get without climbing a mountain. Climb up to the Annapurna base camp (13,514 feet), a sanctuary surrounded by Himalayan high peaks. CLICK FOR DETAILS
Hiking through the colorful valley of Kathmandu and the Forbidden City -Lhasa. Trekking in Central Tibet and crossing the Himalayas back into Nepal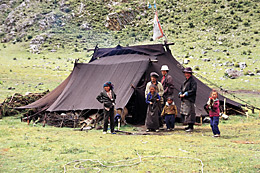 21 days of hiking and sightseeing the colorful valley of Kathmandu Nepal, the Forbidden City - Lhasa Tibet, trekking from Ganden to Samye Monastery in central Tibet, and crossing the Himalayas Mountains back into Nepal. CLICK FOR DETAILS
Mexico and Central America
Trekking the spectacular Barranca del Cobre, Copper Canyon, northwest Mexico: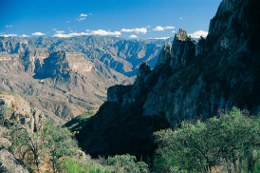 Fourteen days of trekking and backpacking through the natural wonder of Barranca Del Cobre, Copper Canyon in northwest Mexico. Visiting the Tarahumara Indians in their natural environment, Copper Canyon country, a magnificent landscape consisting of 20 canyons together four times larger than the Grand Canyon and equally spectacular. CLICK FOR DETAILS
Mountain climbing and traveling around Mexico City: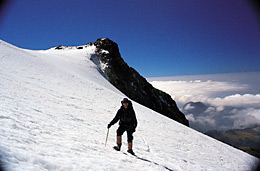 17 days of climbing some of Mexico's highest volcanoes, among them Volcano La Malinche (14,602 feet), Navado De Toluca (15,032 feet) and Iztaccihuatl (17,338 feet). Visiting some of the most interesting ancient cities in Mexico, such as Teotihuacan, Mexico's biggest ancient city and the site of two enormous pyramids. Visiting beautiful old colonial cities around Mexico City, such as the old mining town of Taxco and Puebla with its famous colorful hand-painted ceramics, known as Talavera. CLICK FOR DETAILS
Jungle Trip in the north region of Guatemala and Southern Mexico: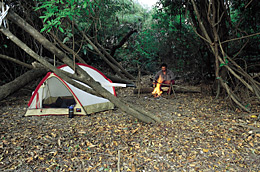 21 days of traveling through the jungles of northern Guatemala and southern Mexico. Traveling by canoe down rivers deep in the jungle, visiting some of the most famous and beautiful ruins of the Maya Civilization and meeting indigenous Indians, ancestors of the Maya Civilization. CLICK FOR DETAILS
South America
14 adventurous days of Trekking and Backpacking around the Paine Circuit, Parque National Torres del Paine, southern Chile: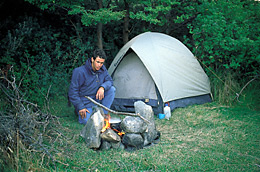 This amazing trek takes us through one of South America's finest national parks. Around Torres del Paine (Towers of Paine) spectacular granite pillars standing about 7000 feet above the surrounding grasslands. Hiking across the 4000 feet high pass to Glacier Gray and Lago Gray, across roaring rivers and along turquoise lakes. CLICK FOR DETAILS
Hiking, backpacking, mountain climbing and white-water rafting in the Cordillera Blanca, Peru: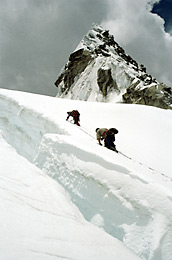 13 adventurous days high up in the Cordillera Blanca, Peru. Adventures including four days Llanganuco to Santa Cruz loop trek, two days mountain climb Mount Vallunaraju (18,600 feet), white-water rafting down the Rio Santa. Visit the 3000 year old Pre-Inca ruins of Chavin de Huantar. CLICK FOR DETAILS
East Africa, Kenya and Tanzania
Mountain climbing, safari and scuba diving in East Africa, Kenya and Tanzania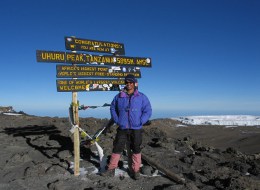 A 17-day trip to East Africa, Kenya and Tanzania. During this trip we will combine deferent outdoor activities as mountain climbing, hiking, wildlife watching in a safari and scuba diving off the coast of Zanzibar, an island off the coast of Tanzania. Through our trip we will be exposed and learn about the natural and human landscape of that part of the continent.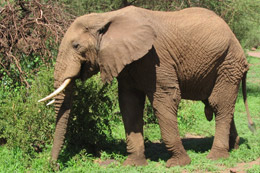 The trip will be divided into three parts, which include climbing mount Kilimanjaro, going on a safari trip and scuba diving in Zanzibar. CLICK FOR DETAILS